People
Lab director
Olivier Blarquez
My research mainly focuses on the interaction between natural disturbances and ecological processes at different spatial and temporal scales. I am particularly interested in long term response of Alpine, Boreal and Tropical ecosystems to fire disturbance, including biodiversity and ecosystem resilience aspects. I mainly study long-term ecological archives contained in natural sedimentary sites such as pollen, macroremains or charcoals to understand ecological processes and vegetation dynamics at millennia time scale.

Lab manager
Jordan Paillard
email
Jordan is currently lab technician working on several bioproxies and managing the lab. During his master's thesis, Jordan studied the Holocene sugar maple migration in Abitibi-Témiscamingue and the influence of fire disturbance on this species. During his graduate and undergraduate studies, Jordan mastered the analysis of pollen and several other proxies commonly used in the lab such as charcoals and phytoliths. He is currently developing methods for image-based automated pollen and bioproxies analysis and counting.
Graduate students
Evrard Bi-Tchoko Kouadio (MSc 2015-, Dir. Yves Bergeron, UQAT)
email | cv | ResearchGate
Evrard obtained a master's degree in botany and phytotherapy (option Phytochemistry) from the University of Abobo-Adjame (Ivory Coast) and a Master in Ecology, Biodiversity (option tropical plant biodiversity) from the University of Montpellier (France). He is particularly interested in the interactions between climate, fire disturbances and forest dynamics in boreal and tropical zones with the objective of identifying mechanisms which lead to environmental changes on a global scale. The aim of his thesis is to highlight the Holocene changes in vegetation between the spruce-moss (closed canopy forests) and spruce-lichen (open canopy) forests and the factors underlying this dynamic in mosaic landscapes from the northern Quebec.
Augustin Feussom Tcheumeleu (PhD 2017-, co-dir. Laurent Millet, UBFC)
Augustin a senior forestry technician, holder of a bachelor's degree in sustainable forest management (Université de Lorraine, France), and a MSc in Biodiversity and ecosystems management (AgroParisTech et Université de Montpellier, France). He was trained in an interdisciplinary way in the context of tropical biodiversity, integrating biological knowledge and management issues. This covered various aspects of ecology, climate changes, relations between societies and ecosystems, conservation biology and management of ecosystems.He is interested in the answers that paleoecology provides to the main questions in ecology, particularly to the interactions between species, communities and climate over geologic time scale.Presently, he is studying Holocene climate changes, vegetation dynamics and fires in eastern Quebec. Augustin's thesis relies on sporomorphs, charcoals and chironomids analysis of lake sediments, to characterize vegetation dynamics, to reconstruct paleofires and paleoclimates, and then assess the impact of climate change and other drivers on fire regimes.
Hugues Terreaux de Félice (PhD 2018-, Dir. Hubert Morin, UQAC)
Hugues obtained a master's degree "Chrono-environnement et Paléoécologie (CEPAGE)" from the University of Montpellier in France where he worked on carboniferous flora during the first year, and then moved in Québec at UQAC to work on insect outbreaks in a paleoecological setting for his second year. He is interested in paleo-environments and the identification of processes that modify the structure, nature and composition of ecosystems through geological time. Hugues thesis focuses on fire reconstruction and outbreaks of spruce budworm in the eastern boreal forest of Canada during the Holocene. The goal is to identify the nature of the relationship between fire and epidemics on different time scales. His results will provide a better understanding of the dynamics of natural disturbances in the boreal forest, as well as indications of the trends that these disturbances may have in the face of climate change.
Marc-Antoine Leclerc (PhD 2018-, Dir. Hubert Morin, UQAC)
Marc-Antoine obtained a Master of Science and a Bachelor's in Sciences in Forest Sciences from the faculty of Forestry at the University of British Columbia. His Master's thesis assessed the effects of mule deer winter range management on disturbances in the dry forests of central British Columbia. Marc-Antoine is particularly interested in biotic and abiotic disturbances, and their interactions at different spatiotemporal scales. Using a multi-proxy approach, his
current research project looks at reconstructing spruce budworm and wildfire events, and their interactions in the mixed boreal forest of central Québec over the past 10,000 years.
Simon Lebel Desrosiers (MSc 2017-, Dir. Nicolas Bélanger, UdeM)
email
Simon obtained his bachelor's degree in environmental geography at the University of Montreal where he had the opportunity to work on the chemistry of soil solution samples collected from a small watershed called Hermine, situated at the Station de Biologie des Laurentides (SBL). For his thesis, he is studying the ecological factors that may affect the red oak's (Quercus rubra L.) natural regeneration at the specie's northern distribution boundary, which is of special interest in the context of climate change and possible assisted migration. His project is divided in two main chapters: 1) an experimental design that aims to test ash/charcoal fertilization treatments, predation and three different provenances plus the interaction of said factors in the early stages of regeneration dynamic (germination, early growth and survival) and 2) the reconstruction of the age structure of the two studied red oak stands at the SBL by systematic coring of trees in randomly selected plots, which should also yield insight into the type of natural perturbation occurring at the studied sites.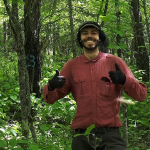 Médéric Durand (MSc 2020-)
Mes recherches portent sur les dynamiques holocènes des populations d'érables en dehors de leur aire de répartition. Plus particulièrement, je m'attarde sur les érablières à sucre se trouvant à la zone de transition des domaines de la sapinière à bouleau jaune et de la sapinière à bouleau blanc. De plus, je tente de comprendre les particularités des feux y permettant – ou pas – leur établissement dans de tels milieux. À ces fins, je fais principalement usage de données anthracologiques ainsi que polliniques en provenance de sédiments lacustres. De manière accessoire, le traitement de données dendrologiques fait aussi partie de mes recherches.
Alumni
Andy Hennebelle (PhD 2016-2020, co-dir. Pierre Grondin, MFFP)
Andy obtained an engineer's degree in Agronomy with a major in forestry and forest management from AgroParisTech Nancy.
During his studies, he has worked on the Spruce Budworm outbreaks and its consequences in the tree ring growth in Black Spruce and Balsam Fir forests in Québec. The second internship consisted in understanding how climate change will influence the phenology of 10 trees productive species in France.
His thesis focuses on the reconstruction of ecosystem processes in eastern Québec since the deglaciation by using pollen and charcoal records from lake sediments. His aim is to calibrate bioproxies taphonomy using recent sediment analysis, remote sensing and field surveys. He has a strong focus on understanding quantitatively vegetation, fire and climate dynamics. Those results will help to assess future projections and models for guiding forest management.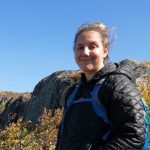 Charlène Mélançon (B.Sc. 2017- co.dir. Nicolas Bélanger)
Mes recherches s'intéressent à l'impact des perturbations naturelles que sont les feux de forêt sur la zone tempérée nordique du Québec. Plus précisément, je travaille sur de multiples sites affectés à différents niveaux par les derniers feux ayant eu lieu à la Station de biologie des Laurentides. Je tente de reconstituer le bilan carbone de ces zones et d'en déterminer les différences en termes de stocks, de flux et, par le fait même, de sensibilité à la température. L'utilisation de données de respiration des sols, de biomasse et de carbone contenu dans les sols est donc essentielle à mes recherches.
Jordan Paillard, 2018. Dynamique holocène de l'érable à sucre (Acer saccharum Marsh.) dans l'ouest du Québec. Mémoire de maîtrise en biologie, Université du Québec en Abitibi-Témiscamingue. 77 p.
Josianne Landry (Honor student, 2017) Influx pollinique et biomasse végétale Eeyou-Istchee – Baie-James
Jordan Fèvre (Master 2, EPHE, PARIS, 2011-2012)
Diversité herbacée et avalanche en forêt subalpine
Aurore Lucas (Master 2, University of Montpellier, 2010-2011)
Feu et dynamique de la biodiversité ligneuse dans la forêt boréale mixte canadienne de l'Ontario au cours de l'Holocène
Tasneem M. Elzein (Master 1 et 2, EPHE, Paris, 2008-2010).
Impact des avalanches de neige sur la structure, la composition et la dynamique des forêts subalpines
Thibault Frejaville (Master 1, University of Montpellier, 2008-2009).
Analyse paléoécologique des changements de diversité et de productivité